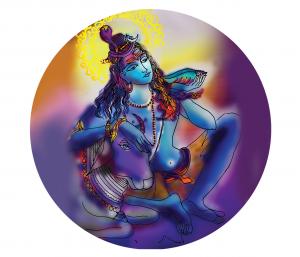 The Himalayan artist & Master Shiva Guruji Aruneshvar is introducing "Spiritualism Art" as the first Indian Art movement in the form of an "-ism" together with Shiva Dhyan Yoga Meditation from Himalaya.

Discover the mysteries of Himalayan wisdom revealed through the artwork, which are the expression of Shiva Guruji's visions.
The awakened artist and Master conveys the message for global peace of SHIVA, which Shiva Guruji defines as S for Synergy with yourself, H for Harmony, I for Inspiration, V for Vastness & A for Art & Awakening Awareness.

Shiva Guruji is an eminent artist, painter, poet, Master from Himalaya, Shiva Dhyan Yoga Master, soul guide, Vedic Soul Astrologer, Shiva Sutra Master, Exponent in 16 Vedic Sciences. His self search has brought him to Himalaya and after being trained by 21 Himalayan Masters and studies of 64 mystic and spiritual arts as well as the Eastern and Western Philosophy, each stroke became a soul creation.